Thank goodness for Hallowe'en.All of a sudden,
cobwebs in my house are decorations. EBombeck
Tons of ghostly tile tidbits
Yours for the taking $0.50- $10
Headless horseman wall lantern
18"r $197

You can't see the path.
Witch's broom
in one hand...
pumpkin bucket
in the other. Whatcha gonna do?
Energizer head lamps
2fer$15 1fer$10

Two trapezoids only $95 each
scary cedar 32"W x 54"H
The continuing adventures of HabitatGO's
Another day at Cousineau St...but
It's raining, and I wanna play...
and raining....
Time ta pack 'er in gals...
16" werewolf round vent cover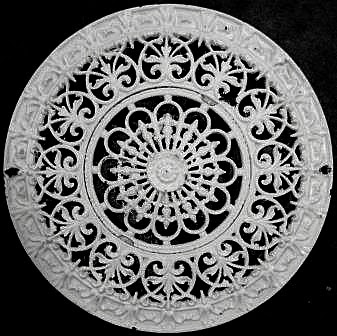 ceiling or floooor cast iron $95
AmerStand pumice granite top vampire vanity
31"W sideandbacksplash $200
Leather zombie cathedra
$525
9 pirate pieces set $1100
sold individually

(but it'll cost you mooore)
6 light clowndelier
24"W x 27"L $350